Purrnelope's Country Club Weekly Update: week of March 14th 2022
🚨🚨🚨ALERT🚨🚨🚨
You aren't following all of the twitter accounts showcasing their .pcc.eth ens subdomain!
To remedy this error click here and smash the follow button!
Wait, you don't have your own .pcc.ens subdomain?! Go here to fix that critical issue. Should you run into any issues please see our discord channel #lobby-bar lobby here.
This is your daily reminder that .pcc.eth is so much stronger on twitter dot com than a pfp because you can search for .pcc.eth

Go follow them: https://t.co/7dpD3JpkqD

Go get yours: https://t.co/JEdQU6poUw

Website 2.0 on the way SoonTM

— carlini8.pcc.eth (@Carlini8N) March 20, 2022
~~Back to our regularly scheduled weekly news and notes~~
On Sunday 3/20/22 we co-hosted a poker night on betonline.ag with our friends at Knights of Degen and Pieland. The only way to play was to hold an Purr NFT (Cat or Kitten), Knight of Degen or Pieland so be sure to pick one up if you haven't yet!
Thank you so much to@knightsofdegen@PielandNFT&@betonline_agfor tonights Poker Tournament, and congratulations to all our winners!#welovethepurrs😺⚔️🥧

— purrnelope.pcc.eth (@PurrnelopesCC)March 21, 2022
The KittyVault has been on an absolute tear lately, up to a 998.51 ETH floor valuation as of Friday March 18th. This is a 67.5 ETH increase week over week and a sneak peek into the future, the vote to sell the KittyVault's $APE airdrop passed with 76.92% of voters voting YES. Next up we'll have a vote on what to do with the ETH we sell the $APE for so get in our discord and share your ideas!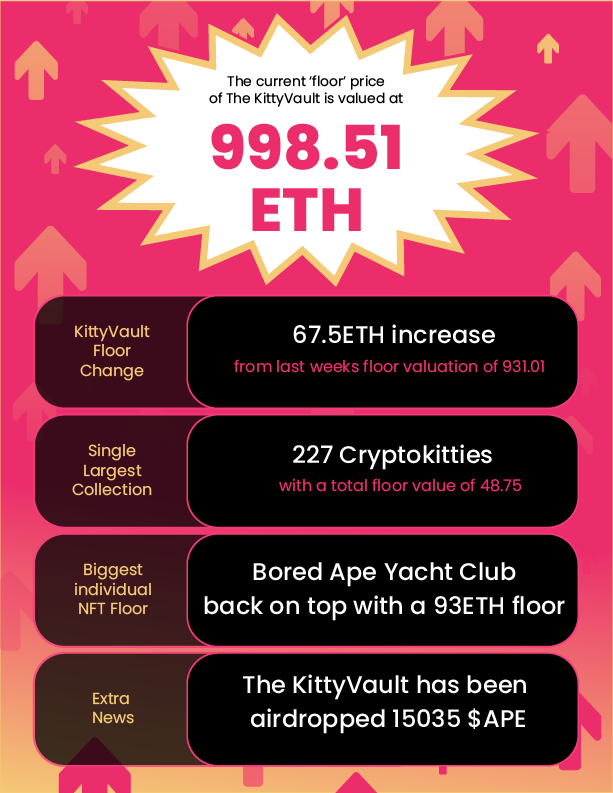 That's all for now,
Mini Meow!